The Good, The Bad, and The Spoilers: A Court of Thorns and Roses
Being completely honest, this book really surprised me… I loved it!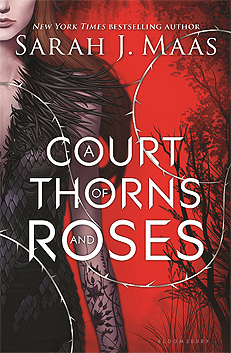 Feyre's survival rests upon her ability to hunt and kill – the forest where she lives is a cold, bleak place in the long winter months. So when she spots a deer in the forest being pursued by a wolf, she cannot resist fighting it for the flesh. But to do so, she must kill the predator and killing something so precious comes at a price ...
Dragged to a magical kingdom for the murder of a faerie, Feyre discovers that her captor, his face obscured by a jewelled mask, is hiding far more than his piercing green eyes would suggest. Feyre's presence at the court is closely guarded, and as she begins to learn why, her feelings for him turn from hostility to passion and the faerie lands become an even more dangerous place. Feyre must fight to break an ancient curse, or she will lose him forever. -goodreads.com summary
"Rhysand stared at me for long enough that I faced him.
'Be glad of your human heart, Feyre. Pity those who don't feel anything at all.'"
I was really cautious when picking up A Court of Thorns and Roses. I am not a huge fan of high fantasy, but a worker at my local Barnes and Noble convinced me that it was worth a buy. It sat on my shelf unread for months before I finally picked it up after all the recent tweets about A Court of Wings and Ruin peaked my curiosity. After having read A Court of Thorns and Roses, I am SOOOOO glad I picked it up and think I'll give Throne of Glass a try once I finish this series!
The

World

: Going into ACOTAR I was most worried about boring exposition, but as I read I actually found myself interested in the past of Prythian. I wanted to learn more about the wall and how many of the character's backstories connected to one another.
Plot
: Going in, I vaguely remembered hearing about how it was a Beauty and the Beast retelling. While reading ACOTAR, the retelling is evident but not in your face. It is a nice more fantasy version of the story. I've been reading a lot of theories about how the parallels might not be as obvious as we once thought… but that's a topic for the A Court of Mist and Fury review ;)
Character Development

:
Being honest, Feyre was never my favorite character but you can't deny her character development. She began as a broken girl whose entire life was fighting for her family. Then she found friends in Prythian and her spirits lightened. Lucien makes a few jokes about how much she has changed, finally letting her guard down with these new friends. It's nice and adds a lighter tone to the story!
Strong Villain
:

Intimidating villains are a thing I find lacking in many books lately. While I love the sympathetic villain in some stories, it doesn't always work. I'm SOOOO glad ACOTAR actually has a terrifying villain with Amarantha. Don't mess with her because she WILL kill you… Sadly she isn't introduced until halfway through the novel…
Pacing
: As I said, the main villain of ACOTAR isn't introduced until halfway through, and doesn't show up until the last ¾… I enjoyed the first half having time to introduce different types of faeries, new characters, and faery tradition, but it did get kind of repetitive and won't work for everyone.
Feyre
: A part of me loves Feyre, but another part finds her really annoying. She does a few extremely reckless things… while I understand that she is desperate and worried about her family, it just seemed rash. She often rushed into situations and found herself needing saving from others. I am happy to say that this gets better in later books, but you still have to get through ACOTAR so…
Overall, I was pleasantly surprised by A Court of Thorns and Roses! It was my first Sarah J Maas book and I now find myself wanting to read all of her novels. I loved learning about the world and all the different types of faeries within it. Many characters have pasts that are left mysterious that I would love to learn more about. I recommend ACOTAR for fans of fantasy, Sarah J Maas books!
BEWARE SPOILERS BEYOND THIS POINT
AHHH THAT ENTIRE ENDING!!!
The Trials: LOTS OF TENSION! All the trials had me on the edge of my seat! It was interesting that Amarantha used Feyre's personal weaknesses, such as illiteracy, to try and defeat her. When it was revealed that Tamlin had an actual stone heart… I found that a little odd… It seemed a little too convenient for my liking, but everything else was great!
RHYSAND: So my opinion on Rhysand was swayed heavily by internet spoilers and the fact that I am writing this after reading ACOMAF… So all I'll say is give him time :)


Feyre's Death: From the beginning, I had a feeling Feyre would become a faerie at some point. I didn't know how, but I hoped it would not be cliché. When I read Feyre's death scene, it was emotional! When she was brought back as I faerie, I was actually okay with it. I was happy that Feyre was now a faerie and am excited to see where that goes.