A Conjuring of Light by V E Schwab Review
Victoria Schwab is back with yet another brilliant book!
*ACOL is the final book in a trilogy, please do not spoil this fabulous trilogy for yourself by reading any farther. Instead, click HERE and go to my review of the first book*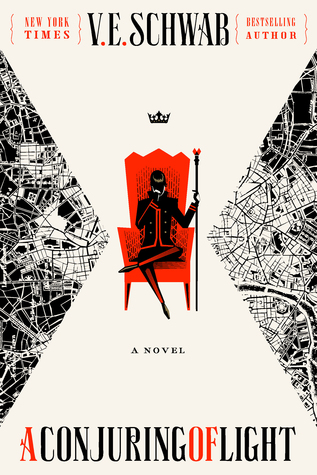 THE BALANCE OF POWER HAS FINALLY TIPPED...
The precarious equilibrium among four Londons has reached its breaking point. Once brimming with the red vivacity of magic, darkness casts a shadow over the Maresh Empire, leaving a space for another London to rise.
Kell - once assumed to be the last surviving Antari - begins to waver under the pressure of competing loyalties. And in the wake of tragedy, can Arnes survive?
Lila Bard, once a commonplace - but never common - thief, has survived and flourished through a series of magical trials. But now she must learn to control the magic, before it bleeds her dry. Meanwhile, the disgraced Captain Alucard Emery of the Night Spire collects his crew, attempting a race against time to acquire the impossible.
And an ancient enemy returns to claim a crown while a fallen hero tries to save a world in decay. –goodreads.com summary
"Love and loss," he said, "are like a ship and the sea. They rise together. The more we love, the more we have to lose. But the only way to avoid loss is to avoid love. And what a sad world that would be."
"Lila smiled at that, one of those smiles that made Kell profoundly nervous. The kind of smile usually followed by a weapon."
Is anyone tired of me talking about Victoria Schwab yet? No! Well I'll just continue rambling then. A Conjuring of Light is the third and final book in the Shades of Magic series and it was full of all the heartbreak I expected, as well the satisfying conclusion the series deserved.
A major pro of A Conjuring of Light is that the plot never slows down! As soon as the book opens, chaos ensues within Red London and an intense, well-paced roller coaster ride follows. Everything is extremely urgent for these characters as they fight for their world, their family, and ultimately their life throughout the novel. Something that didn't occur to me until the end is the fact that the entire plot takes place over the course of about a week. Since everything keeps moving, things are constantly happening, and so much happens within the course of this week.
Of course, with a high stakes plot comes sacrifices and heartbreak. Most of this heartbreak was surprisingly brought through characters that I wasn't much of a fan of previously. In past books I never felt a connection with many of the royals of Red London, but lots of previously ignored characters got time to shine in this final novel. Speaking of which… HOLLAND! I despised Holland for the first two books, but as this book points out, many of his actions were out of his control. Every time I came to a chapter with Holland's POV I knew it was going to be sad because they always delved into his broken past and how harsh his life has been. By the end of the book I just wanted to rap Holland up in a blanket (and keep him away from any potential weapons). I began thinking after finishing A Conjuring of Light, how old is Holland? I feel, I picture him so much older than the other main characters due to his rough upbringing, but I don't know if that is accurate.
Now we can finally get to my other favs (AKA all of the other characters). Kell and Lila were perfection as usual. I went into A Conjuring of Light not really shipping the two of them, but now, I think they are adorable. I began to notice this in earlier books but I have finally discovered that Lila is my spirit animal— not in the throwing knives at people way, but her adventurer side. I agree with Lila's philosophy of it's boring to live safely in a city when I could be off traveling and learning about the world.
The ship that I was really a fan of was Alucard and Rhy! I loved these two and all the hijinks I imagine they get into in the palace. The character of Alucard in general brought some humor to scenes but he also had emotional scenes and could hold his own in a fight. Rhy, was a very sad character. He is forced to deal with an enemy invading his city and threatening his home and family.
He faces a lot of heartbreak throughout the novel making the reader really feel for him.
Overall, I highly recommend the entire Shades of Magic series (but if you've read this far, hopefully you've at least read the first two books). All of the books, but especially A Conjuring of Light, are filled with intensity, realistic characters, and heartbreak. If you or anyone you know is looking for a fantasy novel that will hook you from page one, this is the series for you. If you are questioning whether or not to read the final novel, go for it! Anyone who enjoyed the other two novels will love this one.